April 2013
April has been an incredible month, and we are excited to bring you some fantastic stories and ghost photos.
One ghost picture that we recently received, in particular, further confirms a ghostly encounter we have been chasing for over 7 years: the
Moundsville Shadow Man
. You need to see this awesome collection of photos and their stories.
– Louis
The Moundsville Shadow Man Photos
Compare the 3 Shadow Man Ghost Photos!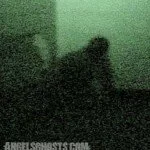 Many years ago, we learned of the West Virginia Pen's most famous ghost picture, the Shadow Man, and just had to investigate the story behind the photo – onsite. Not only did we come away convinced that Polly Gear's photograph is authentic, but we've received 2 other photos, since our original investigation, that validate the shadow man sighting!
More Ghost Photos
Holy smokes – we have some ghost photos that will astound. See our most recent ghost pictures:
Ghost in Pictures
Also view these hot real ghost photo pages:
True Haunted Doll Story
This month's true ghost story comes from Portugal. You might have heard of people wanting to own a haunted doll, but we suggest reading this account before doing so: Haunted Doll Story
Want More? How About Ghost Ships?
Haunting can happen anywhere, we have found, and the sea holds its share of ghastly tales.